Urban Youth & the Determinants of Sexual Health
Research Interest Group
---
Why a RIG on Youth and Sexual Health?
Due to a number of biological, social, developmental, and behavioural factors, Sexually Transmitted Infections (STIs) disproportionately affect adolescents. Recent data indicate a resurgence of STIs in this population, along with an increase in the reported number of HIV infections. Research indicates an alarming gap in the sexual health knowledge of youth, particularly younger teenagers. Canadian youth lack comprehensive knowledge of risk factors associated with unprotected sexual activity and the necessary skills required to ensure the protection of their sexual health. The early teen years are a critical time to provide youth with accessible sexual health education and prevention services. This is the period where first sexual experiences often occur, and where behavioural risk for HIV or STIs emerges.
Toronto, often referred to as the world's most ethnically-diverse city, is home to more than 80 ethnic groups, speaking over 100 different languages. Nearly a quarter of Toronto youth are living at or below the poverty line and racialized groups are disproportionately poor. Local, as well as global research, indicates that HIV (much like other infectious diseases) follows patterns of inequity with marginalized groups most at risk. In the context of such diverse populations, 'one size fits all' STI and HIV/AIDS prevention strategies have proven ineffective in increasing knowledge and changing behaviour among youth. As Toronto's population continues to rapidly grow and diversify, its youth communities will continue to increase in their diversity, and the associated challenges and risks will also become more complex.
Generic STI and HIV/AIDS prevention programs targeted at youth, but focussed solely on behavioural change, are often unsuccessful because youth in different communities approach their health differently. Furthermore, systemic issues of poverty, racism, sexism and homophobia shape and constrain risk. While service providers and youth identify many of the same sexual health issues, they often differ in what they consider ideal approaches to these concerns. As a result, the strategies used by health promoters in public health and community-based organizations need to be adapted in order to provide culturally effective health promotion and prevention services. Furthermore, young people have many talents and assets that have yet to be fully harnessed towards an effective response. Unfortunately, we have little data to guide these developments.
What Key Themes Will be Explored?
HIV/AIDS prevention, sexual health and harm reduction
Intersectional approaches to equity and the social determinants of adolescent sexual health
Exploring the impact of sexual diversity on health
Improving youth access to sexual health services and education
Participatory methodologies that promote youth involvement, leadership and community development
Leveraging youth media for sexual health promotion
BUILDING ON STRENGTHS & OPPORTUNITY: Toronto is already a hub of Adolescent Sexual Health programming and is rapidly becoming a centre for related research. This RIG will bring together youth, community based service providers, policy makers, students and researchers from a variety of institutions and disciplines to develop and promote research capacity in this area. It will build on the interactions of several ongoing as well as new and emerging research projects in the area of adolescent sexual health with a primary focus on urban areas (particularly Toronto).
HOW WILL STUDENTS BE INVOLVED?
Training and mentoring of students is at the core of this RIG. At our RIG planning meeting, partners noted the importance of involving youth stakeholders in the RIG. We will engage students and youth in a number of ways. The Gendering Adolescent AIDS Prevention (GAAP), a youth advisory board made up primarily of undergraduate and high school students, has been active in critiquing public health campaigns, developing performed ethnographies, conducting photo-voice projects and generally taking an activist role in developing innovative sexual health promotion media. The GAAP board will continue to be a way to engage students in RIG activities. Furthermore, through the Toronto Teen Survey, we have developed very successful models of taking on undergraduate and graduate student interns and research assistants. We will also begin a monthly journal club so that students engaged in the RIG who are beginning to develop manuscripts based on their work will have an opportunity for collective feedback and mentorship on their work.
HOW WILL WE SHARE OUR WORK? Knowledge translation and exchange (KTE) strategies are an important component of any community-based research programme, and are particularly meaningful given the urgent context within which this research program is situated. A communications plan targeted at youth will be developed to attract the attention of local print-based media, including newspapers, websites, teen magazines; and radio. Findings from our research projects will be presented as community workshops to assist in data analysis and as opportunities for dissemination; we will also present our research at key conferences and organize public consultations, meetings with elected officials, and presentation to civil servants.
Investigators
Claudia Mitchell, (McGill University Faculty of Education)
Crystal Layne, (Planned Parenthood of Toronto)
Denise Nevpeux, (Critical Disability Studies, York University)
Hazelle Palmer, (Planned Parenthood of Toronto)
Jason Pole, (University of Toronto, Department of Public Health Sciences)
Jeannette Doucette, (Pauktuutit Inuit Women of Canada)
Jean-Paul Restoule, (OISE, University of Toronto)
June Larkin, (University of Toronto, Institute for Women & Gender Studies)
Maria Gurevich (Psychology, Ryerson University)
Melanie Rivers, (Chee Mamuk, Aboriginal Program, British Columbia Centre for Disease Control)
Michaela Hynie, (Psychology, York University)
Randy Jackson, (Social Work, McMaster University , Canadian Aboriginal AIDS Network)
Robb Travers, (Ontario HIV Treatment Centre)
Sarah Flicker, (Faculty of Environmental Studies, York University)
Stephanie Nixon, (Physiotherapy, University of Toronto)
Susan Flynn, (Planned Parenthood of Toronto)
Tracey Prentice (Health Studies, University of Ottawa ; Canadian Aboriginal AIDS Network)
Trevor Hart, (Department of Psychology, Faculty of Arts, Ryerson University)
Student Involvement:
CIHR gives Youth Sexual Health RIG Research Team the 2008 Synapse Award for Student Mentorship and Engagement
The following article is taken from the Canada News Centre Website
The award, which is worth $10,000, recognizes the efforts of a group that has made exceptional efforts to promote health research among Canada's high school students. Through mentorship, the winning group regularly motivates youth to consider both the value of health research as well career opportunities that exist within various scientific fields. The winning group is nominated by someone who understands its direct scientific contributions to young people, and is chosen by the members of the CIHR Youth Outreach Advisory Board.
The Toronto Teen Survey (TTS) research team was initially approached by Planned Parenthood Toronto (PPT) to develop a survey tool that evaluates the assets, gaps and barriers that exist in sexual health education among the city's youth. The team, made up of professionals who trained members of Toronto's youth community, have since collectively developed the survey, gathered information from 1,200 participants and hopes to turn it into a strategy that will increase positive sexual health outcomes among the affected youth.
"It is important for health researchers to motivate youth to appreciate the values of both science and health research," says Dr. Pierre Chartrand, Acting President of CIHR. "The efforts of this group are phenomenal. Through participatory research, all members of the TTS are working together as a team to create new knowledge and, subsequently, translate that knowledge into positive benefits for those affected. That is proactive thought, and, by involving members of youth, the group may also produce top scientific or health research leaders of tomorrow."
CIHR's Synapse - Youth Connection initiative acts as a meeting place, a scientific junction that brings together health researchers and young students. More than 4,000 CIHR-funded health researchers from across the country have already signed up to become CIHR Synapse mentors. Synapse, in collaborative partnership with national science outreach organizations, connects these mentors with high school students through hands-on training experience that will help create the next generation of Canadian health researchers.
"The Toronto Teen Survey team's unique approach to teen sexual health research is research with immediate impact on the city's communities," says Stan Shapson, Vice-President of Research & Innovation at York University. "It promises to help Canadian youth take responsibility for their reproductive health. These innovative research approaches are key to York's leadership in public health and community outreach."
TTS's award is one of three related to mentorship through CIHR's Synapse initiative. Anteneh Argaw, a PhD candidate from Université de Montréal, won the Synapse Award - Graduate Student / Post Doctoral Fellow. Dr. Lisa Robinson, from The Hospital for Sick Children in Toronto, and Dr. Jane Roskams, from the Brain Research Centre at the University of British Columbia, tied for the Synapse Award - Individual Researcher.
2010 Student Research Symposium on
"Urban Youth and the Determinants of Sexual Health"
The Youth Sexual Health RIG, in partnerships with the Native Youth Sexual Health Network hosted their second Annual "Urban Youth and the Determinants of Sexual Health" Student Research Symposium" on March 25th, 2010.
The symposium encouraged a Indigenous focus, hoping to highlight programming and projects engaging Aboriginal youth, as well as research focusing on issues faced by youth in Aboriginal communities. Once again it was an incredible success with over 100 student, government, and community participants throughout the day. Examples of presentation topics included: Social Exclusion, LGBTQ Youth experiences, PeerEducation, Chronic Disease, STI's, and Street Youth challenges. Symposium Program
Award Winners
Oral Presentation
Katie Cook & Alix Holtby (Wilfrid Laurier University): "Image as Metaphor: Photovoice with LGBTQ Youth"
Nakia Lee-Foon (University of Ontario Institute of Technology): "A Systematic Review of the Efficacy of Parent Based Sexual Education Intervention Programs on the Reduction of Sexual Risk Behaviours of Black-Canadian Preadolescents"
Poster Presentation
Muna Aden (University of Waterloo): "HIV/ AIDS prevention for African-Muslim Girls in Toronto".
Honorable Mention
Jerri Clout (North Bay Highschool): "What is the Meaning of 'Sexual Health' in Sexual Health Peer Education?"
2009 Youth Sexual Health Student Symposium
On March 26th, CUHI's Youth Sexual Health RIG, along with the Mark S. Bonham Centre for Sexual Diversity Studies, the LaMarsh Centre for Research on Violence and Conflict
Resolution, the York Institute for Health Research, the Centre for Urban Schooling, Gendering Adolescent AIDS Prevention, Toronto Public Health, Planned Parenthood Toronto and the University of Toronto Sexual Education and Peer Counseling Centre hosted its first student symposium on "Urban Youth and the Determinants of Sexual Health". The goal of the symposium was to bring together students to share their research and artistic pieces and to engage and network with other students, academics, policy makers, and community members involved or interested in youth sexual health. Fourteen students, across twelve disciplines from six academic institutions presented their work (either research or and arts-based) to a diverse audience of over 100 registrants. A compilation of symposium abstracts can be found here.
Awards were presented for the best oral, poster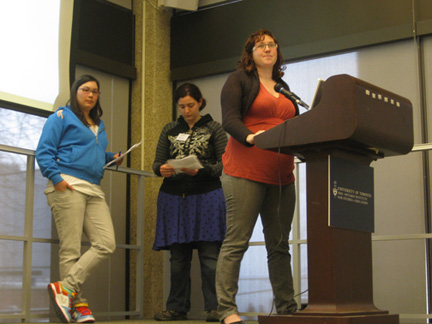 and artistic submissions. Sarah Switzer (M.A. Candidate, Dept. of Curriculum, Teaching and Learning, OISE/UT) received the award for best oral presentation for her presentation entitled Unpacking the Visual: Youth Narratives on HIV/AIDS, Rosemarie Mangiardi, (PhD Candidate, Faculty of Education, University of Alberta) received an honourable mention for her presentation entitled Adolescents Taking Exploratory Action to Transform their Sexual Health Education. Undergraduate Matt Eldridge (Department of Psychology, York University) was recognized for his poster presentation entitled Connectedness and Condom Use: The Effects a Sense of Community has on Sexual Health and Bryn A. Lydlow (Director, Canadian Artists Against Sexual Assault & Undergraduate, Ontario College of Arts & Design) was honoured for her artistic submission for her video entitled, They Were, S/He Was, I Was, I Will Be.
The symposium concluded with a presentation by Dr. Michelle Fine, (Distinguished Professor of Social Psychology, Women's Studies and Urban Education at the Graduate Center , City of New York ) entitled, "Reflecting on the Wet and Dry Moments in Youth Participatory Action Research".
We received extremely positive feedback from symposium delegates. Here are some thoughts from students who presented at the symposium:
Bryn Ludlow
Director, Canadian Artists Against Sexual Assault & Undergraduate , Ontario College of Arts & Design)
Artistic Presentation Award Recipient

"I thoroughly enjoyed the symposium on March 26th. The breakfast & lunch were fantastic and food was very fresh. It was a great opportunity to network during the entire session- not only during the designated times. I also appreciated the opportunity that the organizing committee gave for me to present my video and the time to respond to questions after. Everyone was very welcoming and positive and it was great for OCAD to have two students presenting work. It was a good opportunity for me to increase awareness about my video and project to the academic community, and I think many respondents felt after viewing the video that it is possible to integrate artistic presentation methods into their oral presentations as well. Dr. Michelle Fine was incredibly motivating and an excellent keynote speaker. Her ideas and strategies for educating and empowering youth are worth examination and implementation into medical and community health programming. I look forward to entering into the conference next year and think that it is imperative for the health and well-being of the Greater Toronto Area to hold symposiums covering issues of sexuality, youth sexuality and strategic approaches to sexual violence prevention and social awareness."
Sarah Switzer
M.A. Candidate, Department of Curriculum, Teaching and Learning, OISE/UT
Oral Presentation Award Recipient
"What a day! The student symposium was a wonderful opportunity to learn, chat, network, learn some more, and think outside the box. The interdisciplinary nature of the event allowed for conversations across disciplines, many 'ah hah' moments, and a chance for students to reflect on their own work. As a graduate student in curriculum studies, I appreciated listening and learning from other students who I have met, and chatted with at other conferences. I also appreciated the supportive, open and friendly environment. The day concluded with an inspiring and thought-provoking keynote by Michelle Fine who challenged audience members to think beyond narrow conceptions of research and sexual health to think broadly about the implications of neoliberal agendas on women's bodies, about the ethics of youth research, and the drive for change. Thanks to all the organizers, partners, and sponsors for making this a great day!"
Matt Eldridge
Undergraduate Student, Department of Psychology, York University
Poster Presentation Award Recipient
"The Urban Youth and the Determinants of Sexual Health Student Symposium was a really great experience for me. It brought together a diverse group of students who approach sexual health research in very unique ways. My favourite part of the symposium would probably have to be the warm, friendly, and relaxed environment. I felt comfortable approaching others to discuss interests and current research. This was really important to me as it made it easy to share my work, learn about the work of others, and develop ideas for the future. It was an exciting opportunity to interact with my mentors and my peers. I met a lot of really bright, talented people that day. From discussions with others and listening to all of the presentations, I felt inspired, motivated, and excited to continue on in this field. I also have to mention the food as it was particularly awesome. I fed my body and my mind that day. I am definitely looking forward to more symposiums like this one in the future."